Thinking of Spraying your Kitchen Cabinets?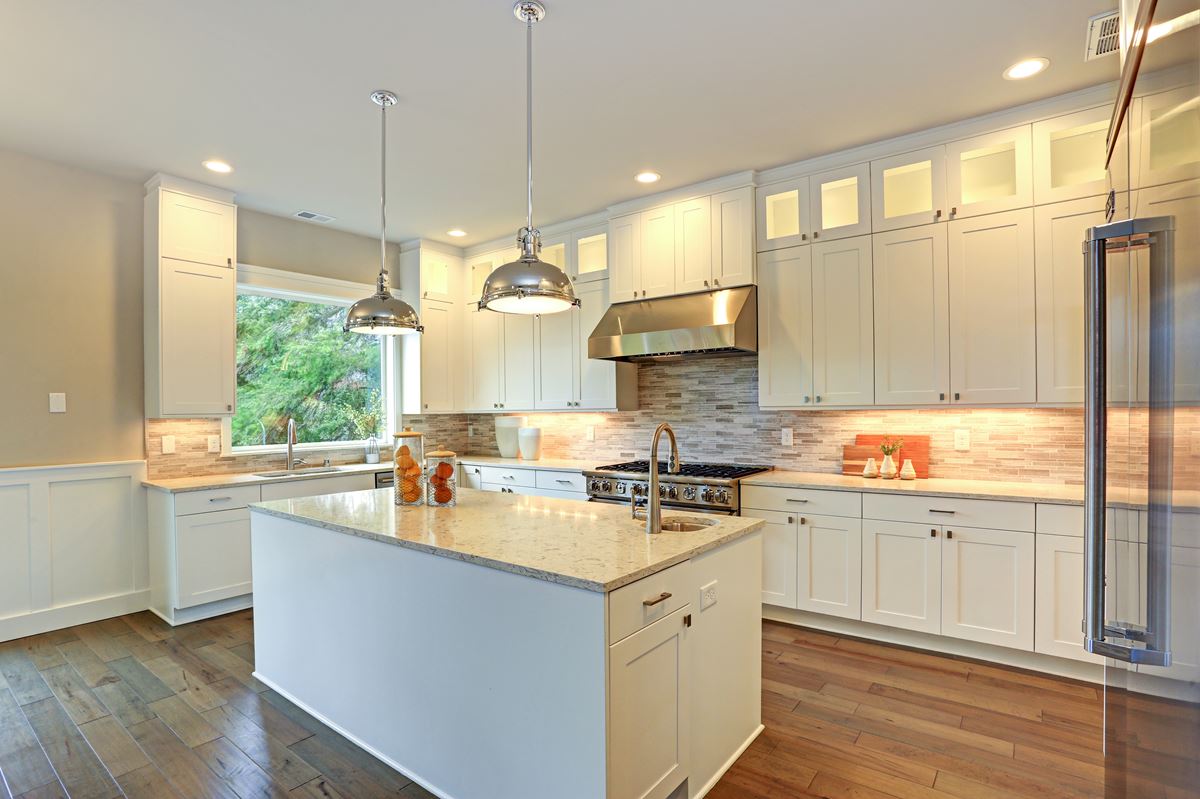 Over the last few years, the interest in Colour Scheme's Kitchen Cabinet Spray Painting service has increased significantly. The most usual "suspects" are golden oak cabinets from the early 80's and 90's but a new entrant has appeared as well, natural maple that has turned gold, or amber with time.
In many cases these cabinets have modern layouts and are very well built but have lost their lustre or simply need a facelift. This is where kitchen cabinet spraying has become valuable option for our clients to consider.
The benefits of re-spraying your cabinets fit well with today's attitudes. Water-based coatings make for an eco-friendly & durable coating, while keeping your cabinets out of the landfill at a price point that is very attractive vs purchasing new. Don't forget about time saving!
If you are considering spraying your cabinets, it is important to understand the coating options on the market and how they benefit you. You can use a primer and paint from the hardware store or a cabinet paint from Benjamin Moore or Sherwin Williams. There are also coatings used by new cabinet manufacturers that are designed to stand up to everyday use.
We have explored & used all the options available over the years, and the benefit of our experience for you, is that we can test and see what works overtime. Until only a few years ago we were using some very high-end coatings that were available from the paint store, but they just did not stand up.
Why would they sell products that don't stand up you might wonder? The products themselves were fantastic, but the kitchen environment is challenging and products that are tougher require a high level of investment. You need to understand proper preparation for these specialized coatings, invest in tools (special spray equipment) and spend some time to learn what is required to achieve success.
Keeping in mind that our clients trust us for quality work that will stand up to everyday use, we have invested in the time, energy and equipment to develop a system that meets our expectations. The results are outstanding, and we have many wonderful reviews from our clients.
If you are considering spraying your kitchen cabinets, check out our kitchen cabinet webpage
Give us a call, we'd love to hear from you!
Recent Projects
Kitchen Cabinet Transformation
Before After So, what if you are happy with your cabinet layout, but would love to add a couple pieces to make it just right? Our clients in west Winnipeg had that scenario. Their […]
The Classic Oak Kitchen - Kitchen Cabinet Spraying
Ron and Donna have a beautiful home which was built approximately 30 years ago. Their kitchen cabinets, solid oak, and grand in the 90's, are not as chic as they once were. This is a very common s […]
Recent Articles
Elevate Your Home with a Professional Paint Job: A Comprehensive Guide with Video Tutorial
A fresh coat of paint has the incredible power to rejuvenate your living space, making it feel brand new. However, embarking on a successful painting project requires thorough preparation. To start, […]
The Significance of Choosing a Reputable Painter for Warehouse Painting
Warehouse painting plays a crucial role in maintaining the appearance, functionality, and safety of industrial spaces. As warehouses are subjected to heavy use, exposure to harsh elements, and potent […]