Royal Wood Painting Contractor - Colour Scheme Professional Painters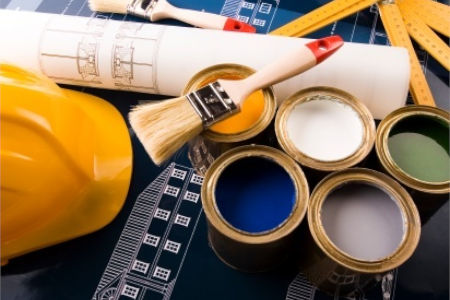 Hiring a Royal Wood painting contractor should be a simple task. However, if you're not careful, that seemingly easy job can create serious problems for you.
The obvious solution for your painting service needs is Colour Scheme Professional Painters and has been since we first started in 1992. However, some locals choose a different company and end up disappointed with the outcome of the job.
For home and commercial property owners in the Royal Wood area who do their research, they learn what makes us the preferred resource for painting work. We go the extra mile and then some to provide every customer we take care of with 100% guaranteed satisfaction.
Reap the Rewards of Professional Commercial Exterior Painting
It's easy to see the potential your commercial building holds once it's been professionally painted. Sometimes, though, the challenge is convincing property owners to take that leap of faith and let us paint the exterior of their Royal Wood commercial building.
If you haven't already scheduled service for commercial exterior painting, you're missing out on:
Attract New Clients
Make a Good First Impression
Increase the Property Value
Wall Protection
Update and Upgrade the Appearance
The problematic part is gauging how much potential business you could be losing each day because of the way your exterior looks. How many of your would-be customers don't bother walking through your front doors because they're turned off by the way your building looks.
You'd be surprised to realize you could be sending these prospective customers straight to your competition. And if any competing businesses already have a fresh new look for the outside of their building, you can bet they're winning over your clients.
Colour Scheme Professional Painters is here to put an end to that, so call us now!
Why Choose Our Team?
We're not oblivious to the fact that we're not your only possible choice in the area for professional painting. However, we're here to help you better understand some of the reasons we're the preferred option.
We work with residential, commercial, and industrial property owners
We've been around taking care of customers for over 25 years now.
Our team members are experienced and expertly trained.
You get 100% customer satisfaction guaranteed from us.
High-quality work and customer service are our priority.
Even if you're still unsure but want to meet for a consultation, give us a call right now. The sooner that you contact us about being your Royal Wood painting contractor, the quicker you'll realize what a good decision you're making.
There are currently no reviews or testimonials; check back soon!
Recent Projects
Kitchen Cabinet Transformation
So, what if you are happy with your cabinet layout, but would love to add a couple pieces to make it just right? Our clients in west Winnipeg had that scenario. Their kitchen was built in the 80's and had the original oak faced cabinets in […]
The Classic Oak Kitchen - Kitchen Cabinet Spraying
Ron and Donna have a beautiful home which was built approximately 30 years ago. Their kitchen cabinets, solid oak, and grand in the 90's, are not as chic as they once were. This is a very common story. They have a beautiful oak kitchen, custom built by […]
Recent Articles
Your Guide to Interior Painting: Expert Insights from Colour Scheme Professional Painters
Are you considering giving your Winnipeg home a fresh new look with a fresh coat of paint? Interior painting can breathe life into your living space, express your personality, and even add value to your property. Before diving into your interior painting project, it's essential to […]
Elevate Your Home with a Professional Paint Job: A Comprehensive Guide with Video Tutorial
A fresh coat of paint has the incredible power to rejuvenate your living space, making it feel brand new. However, embarking on a successful painting project requires thorough preparation. To start, you must decide on the color and finish you desire. Next, gather the essential equipment, […]