Kitchen Cabinet Refinishing Experts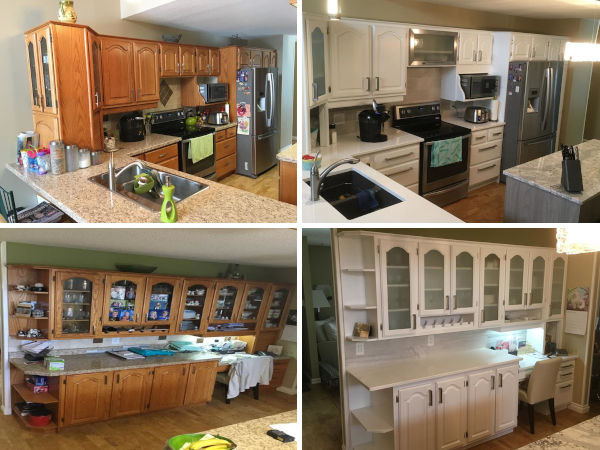 If you're not sure how big an impact Kitchen cabinet refinishing will make for your Winnipeg area home, why not take a look at your kitchen right now? When you look at it, what's the first thing that you notice?
Without a doubt, you notice the cabinetry first because they're the focal point of this space. With that being said, it becomes apparent that you can do magical things with this room by letting a professional painting contractor take over.
Kitchen cabinet refinishing is the ideal additional touch to kitchen renovations or something that can be changed in place of renovating the kitchen. Altering the appearance of your cabinets has that dramatic of an effect on your kitchen, and that's why the work needs to be expertly done.
Benefits of Kitchen Cabinet Refinishing
You can completely transform the look of your kitchen with a change to just the cabinets. Although, traditionally, kitchen cabinet refinishing is carried out as part of a renovation project or, at the very least, included with interior painting.
Whatever you decide, the benefits are the same. Some of the great reasons homeowners make the decision to have their cabinets professionally refinished are:
Cost-Effective
Eco-Friendly
Tons of Options
Quick and Easy
Increased Home Value
Think about what it means to make changes by replacing your cabinets. This alone can consume as much as 40% of your renovation budget - that's almost half!
Plus, it takes much longer, and you have to waste landfill space with otherwise quality materials. Do the smart thing and do the right thing and let Colour Scheme Professional Painters makeover your cabinets with a whole new look.
Redoing Your Kitchen With Newly Refinished Cabinets
Even if you have the money to spend on all new cabinets, why do it? You can drastically change and improve the visual aesthetics of your existing cabinets with much less effort.
You'll also save a great deal of time because new cabinets take a while to order, arrive, and be installed. Plus, the time it takes to remove the previous cabinets to make room for the new ones.
If your current cabinets are in decent condition, you owe it to yourself to at least consider the benefits of refinishing, by reviewing the options you have for new looks. Your cabinets will always be the focal point of your kitchen; we're just here to improve the overall look.
Get in touch with us today and find out more about what kitchen cabinet refinishing can do for your Winnipeg home.
Recent Projects
Kitchen Cabinet Spray
We have been painting kitchen cabinets for many years and the largest change is to a sprayed finish. Stains are desired, but far less often. The real change here is to a sprayed finish. You can ap […]
Recent Articles
Seafoam Green for Interior Painting, is It Really Still
If you're like most people, you've heard the color named, "Seafoam Green" throughout your lifetime. No matter your age, you're likely to have owned many things over the years that were seafoam green. […]
Top Tips For Hiring The Right Winnipeg Painting Contractor
Painting the interior and the exterior portions of the house is a vast project that requires a lot of preparation and challenges. Taking up this restoration work on your own is nearly impossible. G […]