Kitchen Cabinet Transformation
Before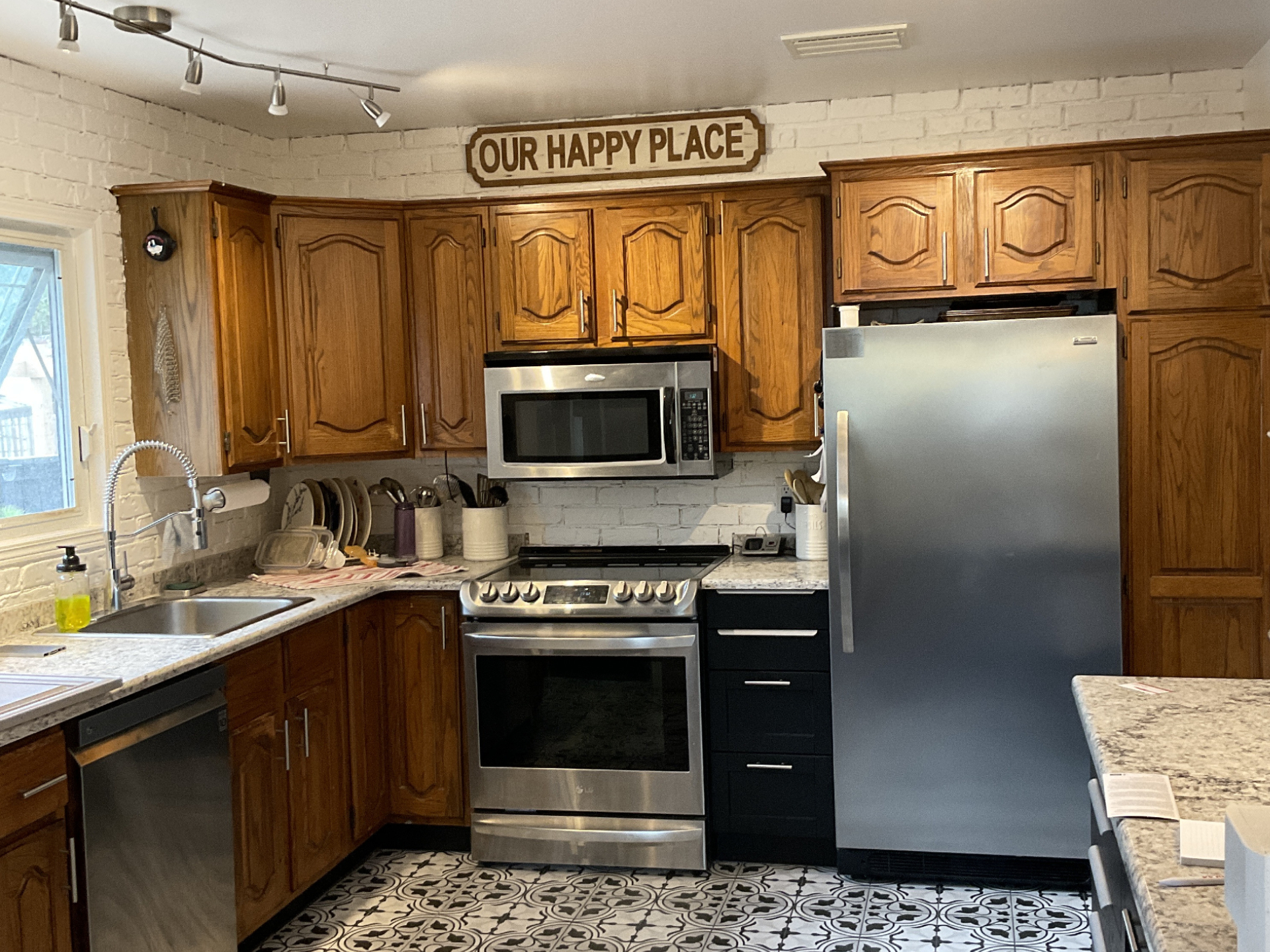 After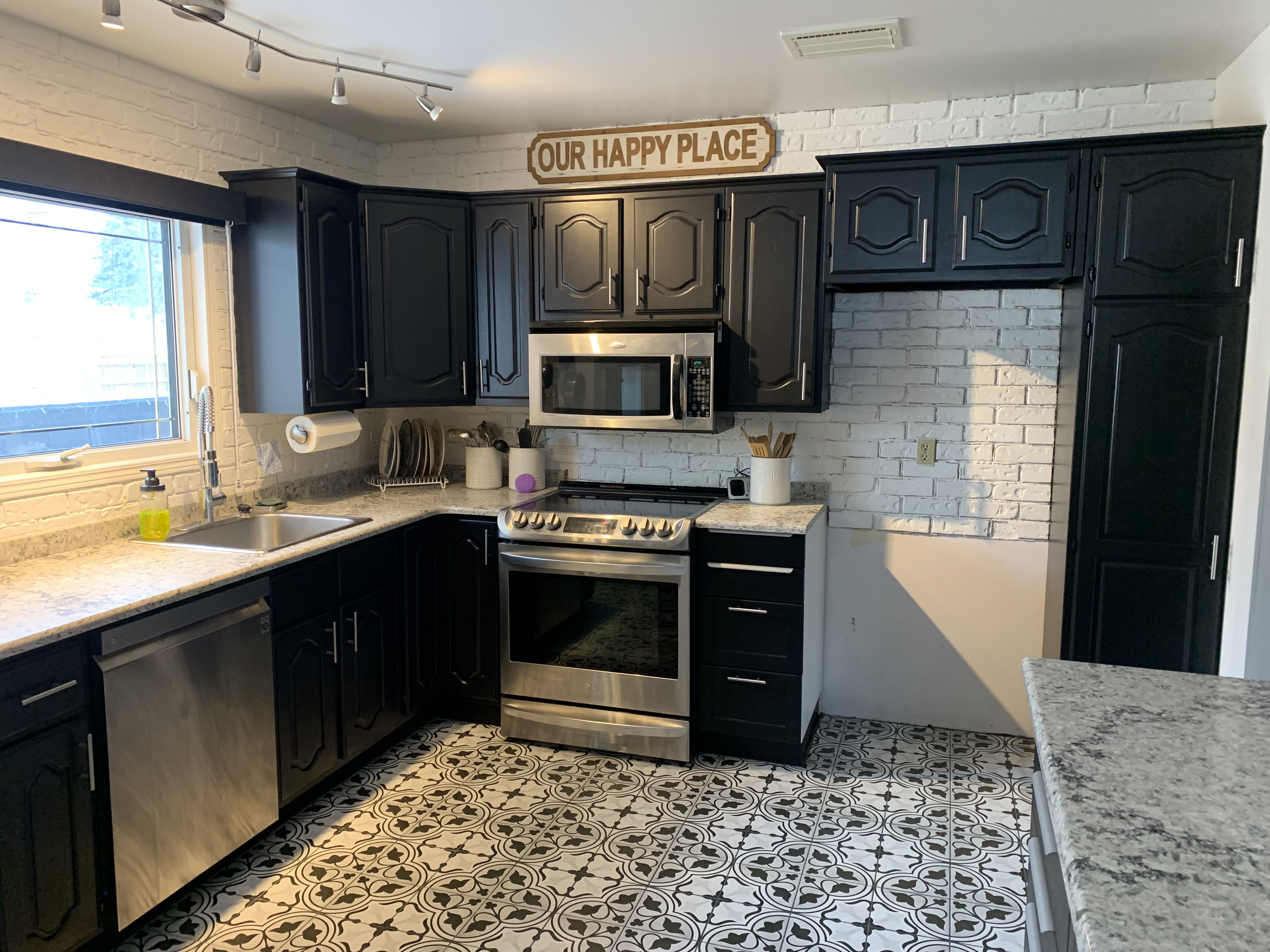 So, what if you are happy with your cabinet layout, but would love to add a couple pieces to make it just right?
Our clients in west Winnipeg had that scenario. Their kitchen was built in the 80's and had the original oak faced cabinets in a medium stain. This colour would have been typical of the day, and the construction had stood the test of time quite well.
Confident they could use their existing cabinets and increase functionality by adding a few new pieces, our clients started their kitchen update project.
The kitchen project included new counter tops, a couple new cabinets and updated appliances.
By adding a couple new cabinets alongside their existing cabinets, they were able to gain the functionality they desired while saving time and money of a large kitchen renovation. The new cabinets they chose were a bold black satin, updated with new nickel drawer pulls and topped off with beautiful light coloured stone counter tops.
We came to know our clients as they needed someone, they could trust, to make their older cabinets match the new ones. Using one of their new door-fronts, we were able to create a custom colour match and blend the old and the new.
By using their existing cabinets as the foundation for their kitchen renovation, they were able to save time, save money and create the look of a complete kitchen renovation, adding to their enjoyment and home value.
Services Used in Project
Client Review:
We hired Colour Scheme to paint our kitchen cabinets and stairwell walls and ceiling. I am 100% happy with everything from the initial quote to the end product. When doing the initial quote, they brought a painted kitchen cabinet door to see the quality of the painting. They explained the process clearly. The kitchen doors were removed first and taken back to the company to be sanded and painted. Then the kitchen was taped off with plastic, and the remaining cabinet frames sanded, primed and painted. I cannot express how happy we are with the finished product. Our cabinets were from the 197Os, with that awful orange stain. Colour Scheme did a colour match to match a newer cabinet we had installed. The match looks great, and our cabinets are now a beautiful modern black. For each step of the process Tricia in the office called and emailed to ensure we were happy, and to remind us of the timings for the next step of the process. Everyone we met was very friendly and professional. We were also given some extra paint to keep if we ever bang a cabinet and make a chip in the paint. The stairwell paint job also looks fantastic and included some drywall patches. know he did some patches, but I can't even see where they are. absolutely recommend Colour Scheme, and will be using them again for any painting we need in future.
- Cynthia J
Recent Projects
Kitchen Cabinet Transformation
Before After So, what if you are happy with your cabinet layout, but would love to add a couple pieces to make it just right? Our clients in west Winnipeg had that scenario. Their […]
The Classic Oak Kitchen - Kitchen Cabinet Spraying
Ron and Donna have a beautiful home which was built approximately 30 years ago. Their kitchen cabinets, solid oak, and grand in the 90's, are not as chic as they once were. This is a very common s […]
Recent Articles
Elevate Your Home with a Professional Paint Job: A Comprehensive Guide with Video Tutorial
A fresh coat of paint has the incredible power to rejuvenate your living space, making it feel brand new. However, embarking on a successful painting project requires thorough preparation. To start, […]
The Significance of Choosing a Reputable Painter for Warehouse Painting
Warehouse painting plays a crucial role in maintaining the appearance, functionality, and safety of industrial spaces. As warehouses are subjected to heavy use, exposure to harsh elements, and potent […]