The Classic Oak Kitchen - Kitchen Cabinet Spraying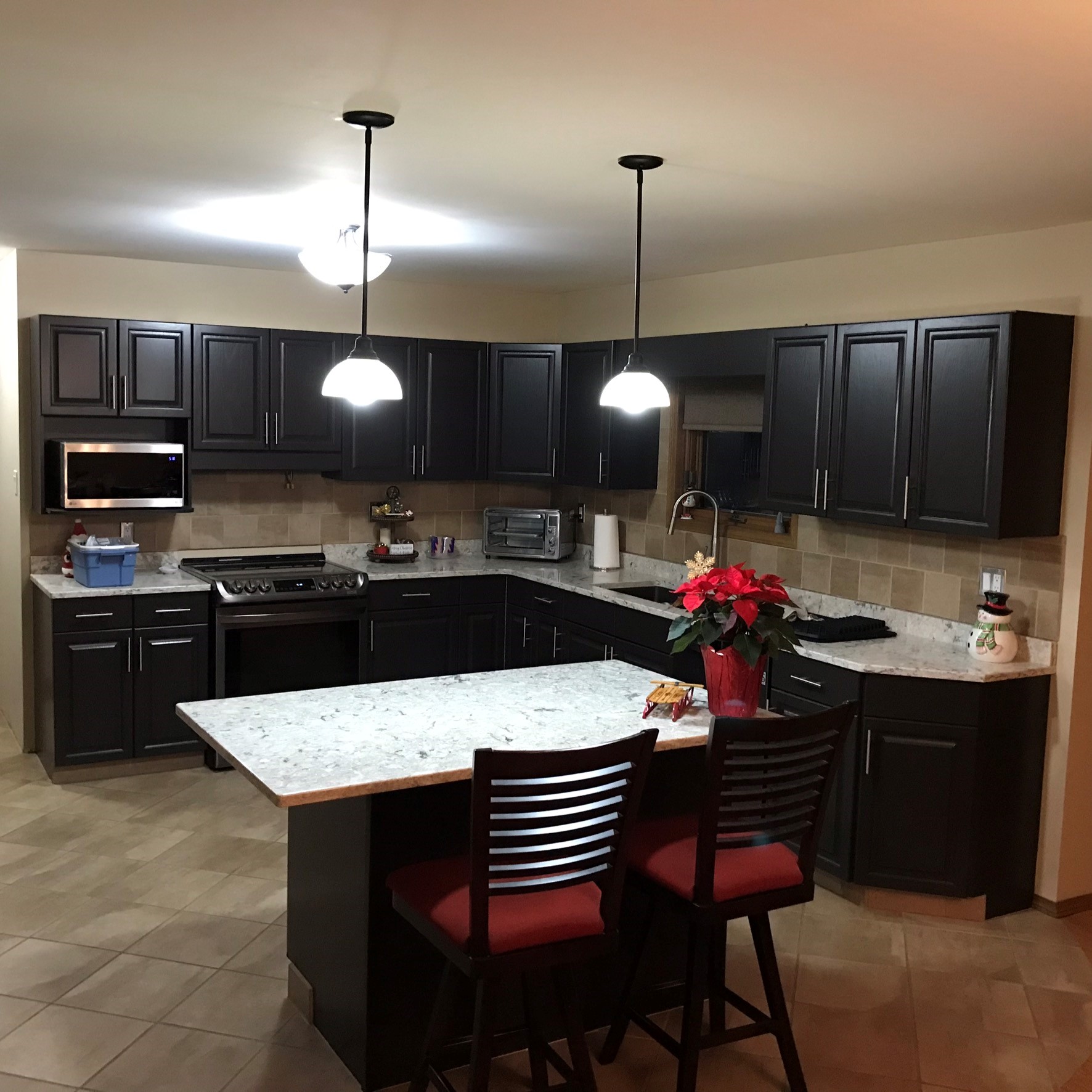 Ron and Donna have a beautiful home which was built approximately 30 years ago. Their kitchen cabinets, solid oak, and grand in the 90's, are not as chic as they once were.
This is a very common story. They have a beautiful oak kitchen, custom built by a well-known local cabinet maker, with a great layout. All the parts function well, but the colour of the stain, beautiful in its day, is showing its age.
After considering all their options, Ron and Donna didn't want to part with the quality built into their home years ago and would not feel right sending their custom cabinets to the landfill. They entrusted our Team to provide the updated look they were looking for.
Kitchen Cabinet Spraying
We started by providing a budget over the phone, they emailed some pictures, and we answered all the preliminary questions Ron & Donna had. A site visit was next, where we confirmed all the details we discussed on the phone and collected all the necessary info to generate a detailed proposal with a fixed price.
With all our I's dotted and T's crossed we agreed to work together.
Once the decision to spray kitchen cabinets to a modern and updated look was made, countertops, hinges, handles and possibly a backsplash were considered.
The hinges in this case were in great operating condition and the hidden type often found in newer construction, which meant they did not have to consider them. The same could be said for the countertops and the existing backsplash, both in great condition and suitable for the new décor. The door & drawer handles really contributed to the dated appearance of the kitchen cabinets and a new look was chosen.
The homeowners searched for handles that fit the existing holes to update the look. This is the best approach as it saves money by not having to fill the holes. They chose a nickel, bar style handle which we installed to complete the kitchen update. The most important of all, what colour should the cabinets be?
Adding to the excitement of this large kitchen transformation, the colour chosen is a dark brown from Benjamin Moore, CSP 30 Espresso Bean. Not your common off-white, this stunning Espresso provides a dramatic, modern look to this 30+ year old kitchen.
What really stood out to our team was how much the existing countertops and backsplash took on a new life. They look like they were changed recently meanwhile they are nowhere near new!
While not a simple process, the choice to spray their kitchen cabinets saved Ron and Donna 1000's of dollars, kept wonderful kitchen cabinets, countertops and other building materials out of the landfill, and provided the look and feel of a full renovation.
Services Used in Project
Photo Gallery
Customer Interview
Recent Projects
Kitchen Cabinet Transformation
Before After So, what if you are happy with your cabinet layout, but would love to add a couple pieces to make it just right? Our clients in west Winnipeg had that scenario. Their […]
The Classic Oak Kitchen - Kitchen Cabinet Spraying
Ron and Donna have a beautiful home which was built approximately 30 years ago. Their kitchen cabinets, solid oak, and grand in the 90's, are not as chic as they once were. This is a very common s […]
Recent Articles
Elevate Your Home with a Professional Paint Job: A Comprehensive Guide with Video Tutorial
A fresh coat of paint has the incredible power to rejuvenate your living space, making it feel brand new. However, embarking on a successful painting project requires thorough preparation. To start, […]
The Significance of Choosing a Reputable Painter for Warehouse Painting
Warehouse painting plays a crucial role in maintaining the appearance, functionality, and safety of industrial spaces. As warehouses are subjected to heavy use, exposure to harsh elements, and potent […]