Are You Looking for a Pritchard Farm Painting Contractor Today?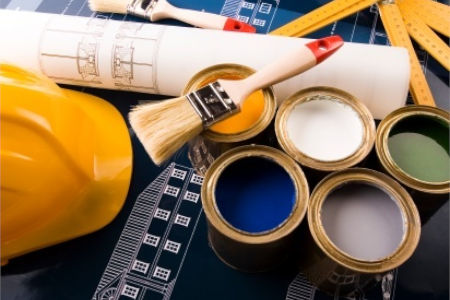 For the best from a Pritchard Farm painting contractor, will you know who to call? Locals here who have done their homework already know the correct answer is Colour Scheme Professional Painters.
This is why we have such a high rate of repeat and referral business. We've been taking exceptional care of our clients since first launching the company in 1992.
For over 25 years now, we've been providing residential, commercial, and industrial customers with high-quality work at a competitive rate. When you're ready for painting from an industry pro in the Pritchard Farm area, don't hesitate to contact our company.
Industrial Painting Experts
The buildings and equipment that make up your factory are critical to your business, and they require proper maintenance and care. What surprises most industrial property owners in Pritchard Farm is how significant a role painting plays in that.
From warehouse painting to facility painting, you can enjoy benefits like:
Minimize and Control Corrosion
Assist in Passing Inspection Efforts
Boosts Employee Morale
Protects the Integrity of Your Equipment
Improves Your Brand Identity
From appearance to operational, you'll appreciate the advantages you'll notice from professional painting. Industrial painting is the type of project that has to be carried out by an established pro.
There's more to this level of commercial painting than just applying a color. It's about knowing safety regulations and meeting the codes and guidelines.
You can trust us to do that and more, including dealing with the permits process when applicable. Don't settle for anything less than the best when it comes to the work that goes into your company.
Services Provided by the Colour Scheme Professional Painters Crew
What do you need from a professional painter other than skills? Well, for one thing, it's crucial that you only work with a company that has current licensing and insurance.
It's also always preferable to partner with an expert who is focused on this field of work. A jack-of-all-trades is often good at many things but not great at any one thing - like painting.
We're committed to professionalism in just painting and can provide you with services such as:
Residential Painting
House Painting
Interior Painting
Commercial Painting
Office Painting
Commercial Exterior
Industrial Painting
Facility Painting
Warehouse Painting
Not only are we painting specialists, but we also back our work with our 100% customer satisfaction guarantee. If it's painting that you need for inside or out, we're the pros for you, without a doubt.
Contact us now and schedule your service with a reputable Pritchard Farm painting contractor.
There are currently no reviews or testimonials; check back soon!
Recent Projects
Kitchen Cabinet Transformation
So, what if you are happy with your cabinet layout, but would love to add a couple pieces to make it just right? Our clients in west Winnipeg had that scenario. Their kitchen was built in the 80's and had the original oak faced cabinets in […]
The Classic Oak Kitchen - Kitchen Cabinet Spraying
Ron and Donna have a beautiful home which was built approximately 30 years ago. Their kitchen cabinets, solid oak, and grand in the 90's, are not as chic as they once were. This is a very common story. They have a beautiful oak kitchen, custom built by […]
Recent Articles
Your Guide to Interior Painting: Expert Insights from Colour Scheme Professional Painters
Are you considering giving your Winnipeg home a fresh new look with a fresh coat of paint? Interior painting can breathe life into your living space, express your personality, and even add value to your property. Before diving into your interior painting project, it's essential to […]
Elevate Your Home with a Professional Paint Job: A Comprehensive Guide with Video Tutorial
A fresh coat of paint has the incredible power to rejuvenate your living space, making it feel brand new. However, embarking on a successful painting project requires thorough preparation. To start, you must decide on the color and finish you desire. Next, gather the essential equipment, […]