Commercial Exterior Painting in Winnipeg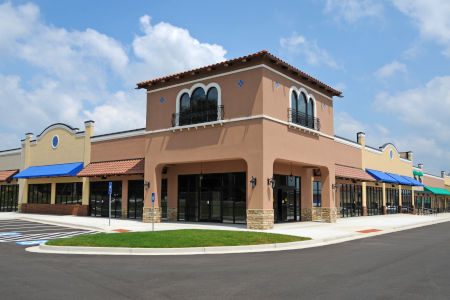 You have finally decided that commercial exterior painting is the next project for your Winnipeg company, and now it's time to start getting some quotes. While screening prospects for a painting contractor, keep in mind what matters most - quality.
That thought process is how so many business owners each year come to the conclusion that Colour Scheme Professional Painters is the solution to their painting needs. It's generally not something the average person knows much about, especially since commercial exterior painting is different from other types of painting projects.
Since 1992, we've been proving to local home and business owners that we're the right team for the job, no matter what that painting job is. Entrust us to care for your facility's exterior as much as you do, but with the skills and equipment to take care of the painting.
Get High-Quality Exterior Painting Results
From interior office painting to exterior painting, Colour Scheme Professional Painters is ready to help you make changes to your existing commercial building. The commercial exterior makes a drastic difference in how people perceive your business - both employees and customers.
Adding a new coat of paint to the exterior of your business can be a great way to make it more appealing for potential clients. While the process of looking at paint colours, prices, and painters can seem daunting, it can be handled easily by our pros.
Call Colour Scheme Professional Painters because we have the experience necessary to make it a painless process, and one that will leave you satisfied with the outcome. When working on a plan for painting your exterior, there are a few things that need to be considered, such as:
How long will the paint job last?
What type of preparation will there be?
Is there any existing rotted wood or compromised missing stucco?
Does my exterior require caulk?
Will I need a primer, and how many finish coats of paint?
We'll help you with these and more, determining the type of work your job will require. We're a full-service painting company, and we strive to make sure the project you've envisioned becomes a reality.
Nothing Short of Painting Excellence
It's probably been a while since you've looked at the outside of your facility from the perspective of a potential customer. Now is a good time to do that.
See it through their eyes and what type of impression your building is making. Because you never get a second chance to make a good first impression.
You'll never even be aware of how much business you've possibly lost due to a shoddy looking exterior. Put an end to that today by calling us for superior painting for your commercial exterior in the Winnipeg area.
Recent Projects
Kitchen Cabinet Transformation
Before After So, what if you are happy with your cabinet layout, but would love to add a couple pieces to make it just right? Our clients in west Winnipeg had that scenario. Their […]
The Classic Oak Kitchen - Kitchen Cabinet Spraying
Ron and Donna have a beautiful home which was built approximately 30 years ago. Their kitchen cabinets, solid oak, and grand in the 90's, are not as chic as they once were. This is a very common s […]
Recent Articles
Elevate Your Home with a Professional Paint Job: A Comprehensive Guide with Video Tutorial
A fresh coat of paint has the incredible power to rejuvenate your living space, making it feel brand new. However, embarking on a successful painting project requires thorough preparation. To start, […]
The Significance of Choosing a Reputable Painter for Warehouse Painting
Warehouse painting plays a crucial role in maintaining the appearance, functionality, and safety of industrial spaces. As warehouses are subjected to heavy use, exposure to harsh elements, and potent […]