Kitchen Cabinet Spray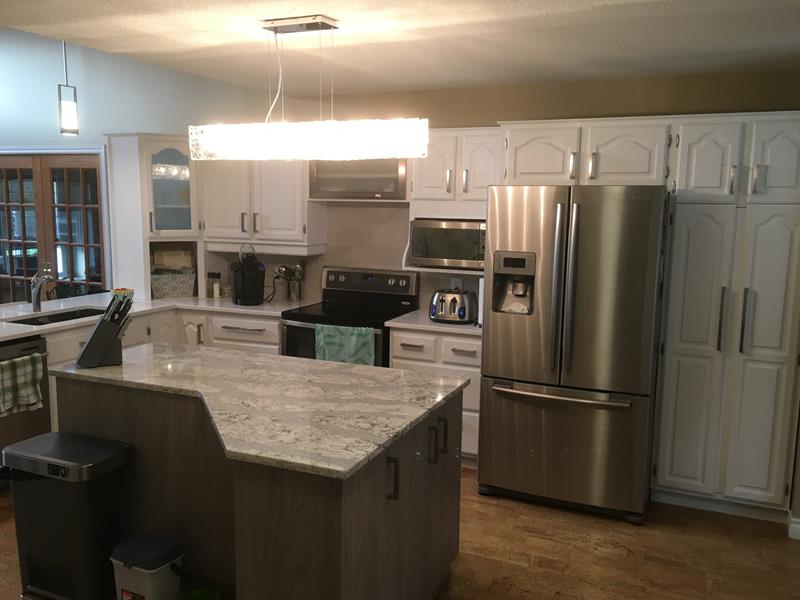 We have been painting kitchen cabinets for many years and the largest change is to a sprayed finish. Stains are desired, but far less often. The real change here is to a sprayed finish.
You can apply paint to your cabinets with a brush and roller and yes, they will possibly look better than they were but in today's homes, people generally are asking us for more.
Today we see a desire to brighten the kitchen with different colours & adding new hardware including hinges & handles. This all adds up to an updated look to an already functional kitchen, at a fraction of the cost of new & with far less interruption. The home owner for this project contacted us in February of this year with a desire to update her 80's kitchen cabinets. They were a beautiful custom cabinet at the time of their installation but the look had become tire and out dated. Lana, had been referred to us by a friend of a friend, a common route for people to find us, and one we most appreciate.
We started by finding out what she wanted for her kitchen project, if we were the only ones involved, if there were any minor alterations we could assist in and of course colour. Ultimately, a shade of white was chosen to cover the existing golden oak. New nickel hardware was selected for handles and the hinges, we re-sized the Microwave oven opening - to suit a modern appliance – new shelves were made of laminate for the many glass framed cabinets and new frosted glass was supplied to the doors.
The owner took it on herself to have the backsplash and the counters changed. This really capped the transformation. It's an incredible change that we are very proud to have been a part of.
What is the process & how do we do it?
Once we figure out the project details we will work on a schedule that fits our shop and your timeline.
On the agreed Schedule we will arrive to remove the existing doors and drawer fronts from the site. Doing the work off-site eliminates odour and inconvenience to you, our client.
At our shop the doors and drawer fronts are sanded, chemical cleaned, we may fill door handle holes (for relocation), then prime. Once primed they will be sanded and caulking will take place, finally finish coats will be sprayed and there will be a cure time following. Package, deliver and re-install. Prior to installing the newly re-finished pieces we need to match your cabinet frames and gables to your doors and drawer fronts. The process is very similar to the in-shop work, and takes 2-3 days in your home.
Installation can include new or existing hardware, adjustment and alignment and of course the little rubber door bumpers!
Photo Gallery - Before
Photo Gallery - After
Recent Projects
Kitchen Cabinet Transformation
So, what if you are happy with your cabinet layout, but would love to add a couple pieces to make it just right? Our clients in west Winnipeg had that scenario. Their kitchen was built in the 80's and had the original oak faced cabinets in […]
The Classic Oak Kitchen - Kitchen Cabinet Spraying
Ron and Donna have a beautiful home which was built approximately 30 years ago. Their kitchen cabinets, solid oak, and grand in the 90's, are not as chic as they once were. This is a very common story. They have a beautiful oak kitchen, custom built by […]
Recent Articles
Your Guide to Interior Painting: Expert Insights from Colour Scheme Professional Painters
Are you considering giving your Winnipeg home a fresh new look with a fresh coat of paint? Interior painting can breathe life into your living space, express your personality, and even add value to your property. Before diving into your interior painting project, it's essential to […]
Elevate Your Home with a Professional Paint Job: A Comprehensive Guide with Video Tutorial
A fresh coat of paint has the incredible power to rejuvenate your living space, making it feel brand new. However, embarking on a successful painting project requires thorough preparation. To start, you must decide on the color and finish you desire. Next, gather the essential equipment, […]