Expresso Cabinets Lightened up with Kitchen Cabinet Spraying in Winnipeg, Manitoba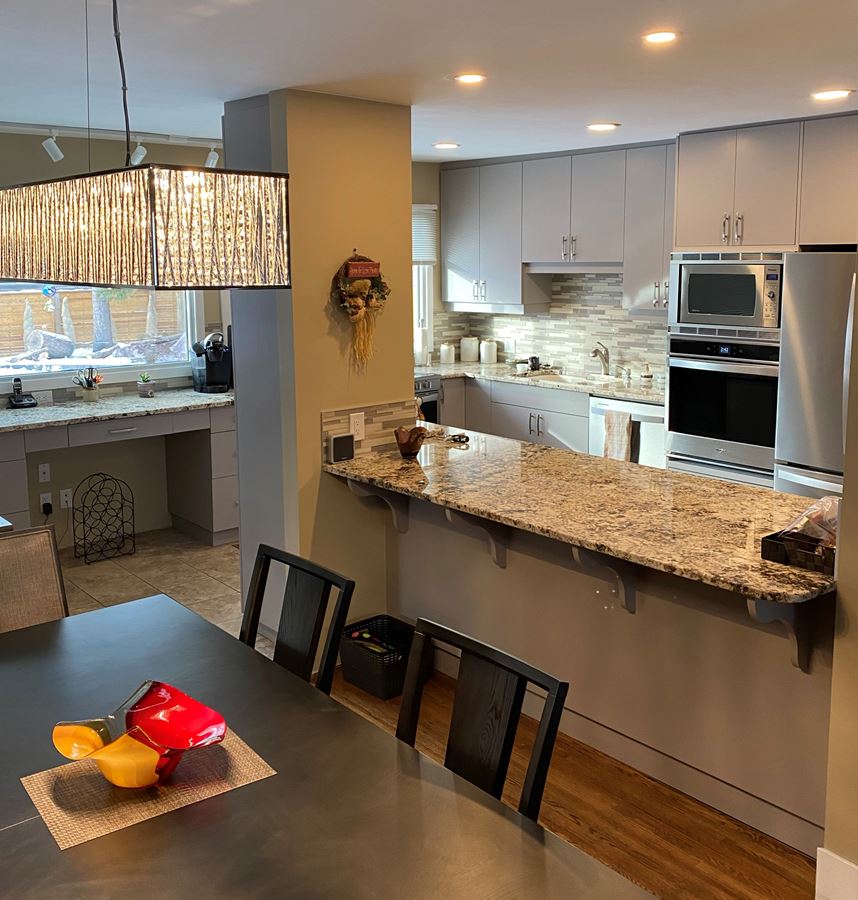 This project was exciting for us as it was a fairly new kitchen with a maple Veneer. The maple veneer slab doors were beautifully smooth which provided a wonderful canvas for the new coating to be spray applied to.
The first step in the project was to remove the existing doors and drawer fronts, take them to our shop and work on them off site.
The challenge with this project was to protect the entire surrounding areas as there were an openings to other parts of the home in 3 locations in this open area concept. On day one, Igor & Raj sealed themselves in our protective bubble & went to work preparing the existing cabinets.
Following the usual process of cleaning, sanding & masking we were able to get started to spray the primer. Our clients were ecstatic after the primer. We let them into the "bubble" for an inspection & the bright white cabinets gave them a great impression of how bright their new look may be.
After some more sanding and clean-up, we sprayed the finish coats. This colour is a bit darker than white but still much lighter and reflective then the expresso and gave our clients the reassurance they were looking for. Brighter and updated.
Ihor, our Carpenter arrived 2 days later to install the finished Doors and drawer fronts with the total project taking just over a week. Total time onsite was 2.5 days for finishing, 1 /2 day at the beginning for removal and 1 day at the end for re-installation.
Services Used in Project
Photo Gallery
Products Used:
Benjamin Moore AF-675 FUSION
Recent Projects
Kitchen Cabinet Transformation
So, what if you are happy with your cabinet layout, but would love to add a couple pieces to make it just right? Our clients in west Winnipeg had that scenario. Their kitchen was built in the 80's and had the original oak faced cabinets in […]
The Classic Oak Kitchen - Kitchen Cabinet Spraying
Ron and Donna have a beautiful home which was built approximately 30 years ago. Their kitchen cabinets, solid oak, and grand in the 90's, are not as chic as they once were. This is a very common story. They have a beautiful oak kitchen, custom built by […]
Recent Articles
Your Guide to Interior Painting: Expert Insights from Colour Scheme Professional Painters
Are you considering giving your Winnipeg home a fresh new look with a fresh coat of paint? Interior painting can breathe life into your living space, express your personality, and even add value to your property. Before diving into your interior painting project, it's essential to […]
Elevate Your Home with a Professional Paint Job: A Comprehensive Guide with Video Tutorial
A fresh coat of paint has the incredible power to rejuvenate your living space, making it feel brand new. However, embarking on a successful painting project requires thorough preparation. To start, you must decide on the color and finish you desire. Next, gather the essential equipment, […]