Bright but not White! Kitchen Cabinet Makeover in Winnipeg, Manitoba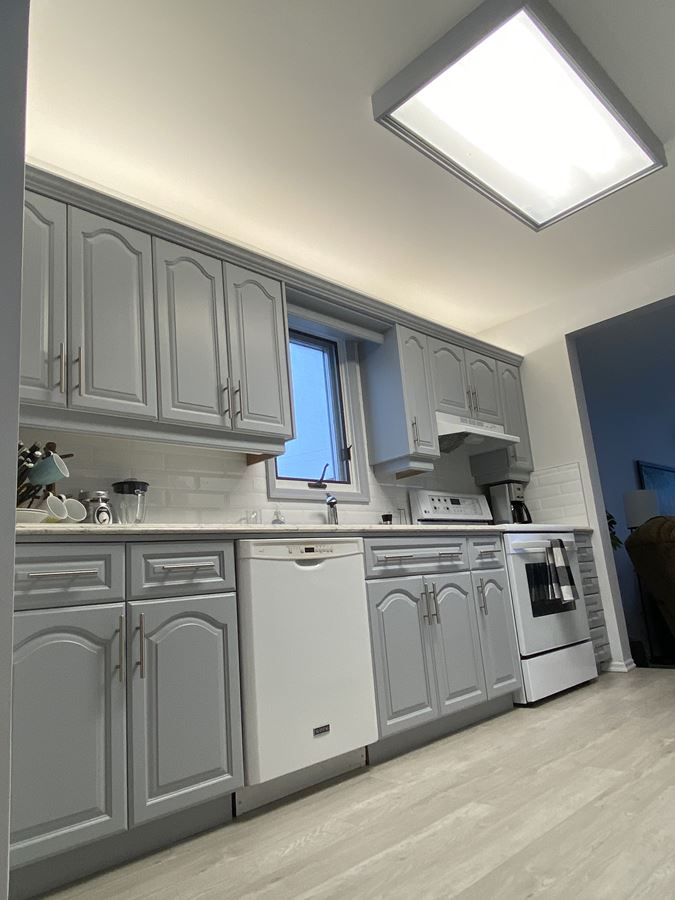 Brian & Tracy were ready for kitchen makeover.
After research and planning, they entrusted out team to Spray their Oak Kitchen Cabinets. Our Kitchen Cabinet Spray process will update the look of their 30-year-old oak kitchen cabinets and matching fireplace surround.
Using our multi-step process, we prepare the cabinet doors and drawer fronts in our shop & prepare and finish the exposed gables, mouldings and shelf edges in their home.
The first step in the process is to remove the doors and drawer fronts from the home for preparation and finishing in our shop. Once the shop work is completed, we return and perform the onsite work in the home.
The most important part of the onsite work is the preparation. If you have heard this before, it is because it is true! We must protect all areas as a sprayed coating can land on areas unexpected! Our thorough preparation protects these areas and more - just to be sure!
We apply a waterproof coating to the floor to protect against drips and spills. All the surfaces that require a coating are washed to prepare for a stain blocking bonding primer. Cabinet interiors & major appliances are masked to seal from paint coatings and dust.
Following our Primer, and a Sand to make smooth, gaps are caulked as required and the first of two top- coats begin.
A thorough clean-up is followed by a double check for possible touch-up.
The last and final touch is re-installation of the cabinet doors and drawer fronts. Our carpenter returns with the shop sprayed pieces, installs handles and hinges then adjusts for proper function. Finally, some new silicone door bumpers are applied.
Often other touches are added to the make-over, and these clients chose a new countertop. Along with Benjamin Moore Thundercloud Grey 2124-40 chosen by Brian & Tracy, they could not be happier with the finished product!
Services Used in Project
Photo Gallery
Products Used:
Benjamin Moore Thundercloud Grey 2124-40
Recent Projects
Kitchen Cabinet Transformation
So, what if you are happy with your cabinet layout, but would love to add a couple pieces to make it just right? Our clients in west Winnipeg had that scenario. Their kitchen was built in the 80's and had the original oak faced cabinets in […]
The Classic Oak Kitchen - Kitchen Cabinet Spraying
Ron and Donna have a beautiful home which was built approximately 30 years ago. Their kitchen cabinets, solid oak, and grand in the 90's, are not as chic as they once were. This is a very common story. They have a beautiful oak kitchen, custom built by […]
Recent Articles
Your Guide to Interior Painting: Expert Insights from Colour Scheme Professional Painters
Are you considering giving your Winnipeg home a fresh new look with a fresh coat of paint? Interior painting can breathe life into your living space, express your personality, and even add value to your property. Before diving into your interior painting project, it's essential to […]
Elevate Your Home with a Professional Paint Job: A Comprehensive Guide with Video Tutorial
A fresh coat of paint has the incredible power to rejuvenate your living space, making it feel brand new. However, embarking on a successful painting project requires thorough preparation. To start, you must decide on the color and finish you desire. Next, gather the essential equipment, […]