Exterior Sanding and Painting in Winnipeg, Manitoba
Woodhaven Beauty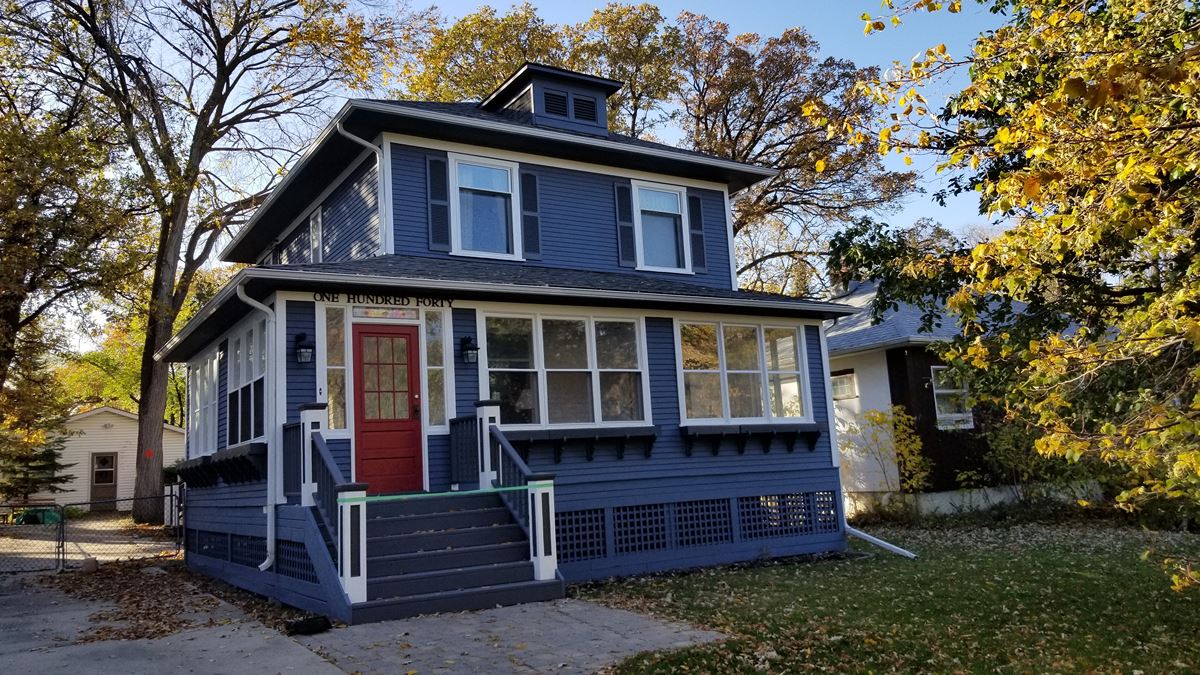 The homeowner of this beautiful early 1900's home contacted us in the spring of 2019. It was time for them, and their home, to receive some much needed attention. This home had been well cared for over the years but it was time for a little extra attention to bring the house back to its' former glory. Our client completed some required repairs in 2019 which made 2020 the year for painting! This would not be a basic scrape and paint.
This project required the skills of our entire team. Our Lead Painter Igor & his apprentice Rajbir washed, scraped and power sanded every inch of the home to identify & remove loose or peeling paint. Given that it would be difficult to restore all areas to a perfectly smooth surface and stay within our client's' budget, a plan was agreed upon. Thorough paint preparation was done on the entire home with extra attention paid to the finished look of the painted surfaces where our clients and their guests might see the home more often. In this case, extra attention meant using power tools, & time, to remove as much old, uneven and cracked lumpy paint. The resulting smooth or smoother surface will look great and last longer as well.
Carpentry was necessary in many areas to replace rotted wood, missing wood trims and even a couple broken screens & panes of glass. Our Carpenter Ihor spent many hours gently removing rotted or damaged wood and replacing with new wood to match the previous design & profile. The preparation formed the base for the new colours selected.
The whole home was primed using a high build waterborne bonding primer and two full coats of Benjamin Moore Regal Low Lustre and Satin.
With the assistance of our Design Consultant Carla, the house has a stunning new Colour Scheme!
Services Used in Project
Photo Gallery
Products Used:
Benjamin Moore Regal high build exterior low lustre
Client Review:
We had the exterior of our house painted. The customer service we received was excellent, as was the quality of the work. The painters and carpenter took the time to explain the process and what they were doing, and any questions or concerns that we had were addressed quickly during the course of the job. The work started within a day of what was originally proposed(and we were given advance notice of the slight delay), and the painters worked each day until the job was done. We are very happy with the paint job and would recommend Colour Scheme to others.
- Bronwyn B
Recent Projects
Kitchen Cabinet Transformation
So, what if you are happy with your cabinet layout, but would love to add a couple pieces to make it just right? Our clients in west Winnipeg had that scenario. Their kitchen was built in the 80's and had the original oak faced cabinets in […]
The Classic Oak Kitchen - Kitchen Cabinet Spraying
Ron and Donna have a beautiful home which was built approximately 30 years ago. Their kitchen cabinets, solid oak, and grand in the 90's, are not as chic as they once were. This is a very common story. They have a beautiful oak kitchen, custom built by […]
Recent Articles
Your Guide to Interior Painting: Expert Insights from Colour Scheme Professional Painters
Are you considering giving your Winnipeg home a fresh new look with a fresh coat of paint? Interior painting can breathe life into your living space, express your personality, and even add value to your property. Before diving into your interior painting project, it's essential to […]
Elevate Your Home with a Professional Paint Job: A Comprehensive Guide with Video Tutorial
A fresh coat of paint has the incredible power to rejuvenate your living space, making it feel brand new. However, embarking on a successful painting project requires thorough preparation. To start, you must decide on the color and finish you desire. Next, gather the essential equipment, […]