A Change of Scenery with Kitchen Cabinet Spraying in Winnipeg, Manitoba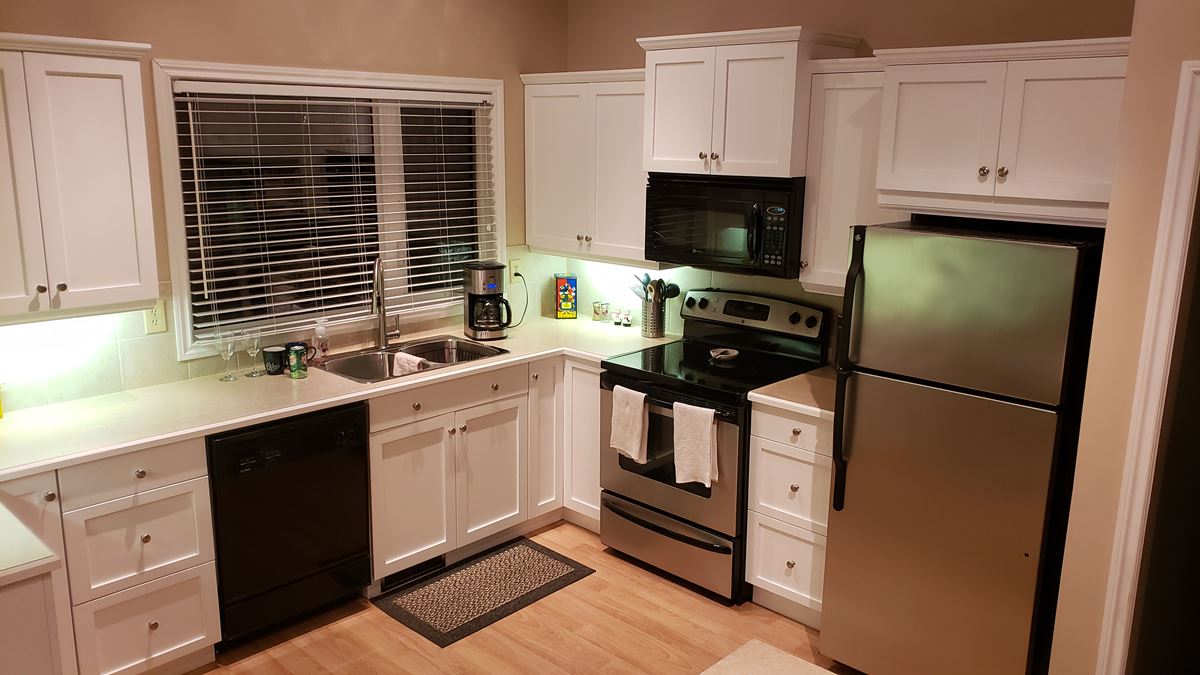 It's 2020 and who is not feeling a little restless? Need a change of scenery but can't go out?
This home's cabinetry was installed by the current owners as part of a renovation many years ago. They love the kitchen, the choice of woodwork and the colour. But that was 20 years ago...
We were asked to look at what we could do to lighten up the cabinets by spraying a new coating, & these cabinet were a great candidate as they were in beautiful, if not new condition.
The owners did much research on colour and were tempted to go 2 tone on the new colour scheme. The home improvement shows and magazines often have an accented island and that was really appealing but It can be hard to choose that perfect accent that you can live with for a long time. Our clients opted for a single colour. Their new colour choice is Benjamin Moore Chantilly Lace, OC-65. This is a common white for Kitchen Cabinet Spraying and it looks fantastic. It's clean and crisp.
The whole process took 2 days to spray onsite including set-up and clean-up, a half day at the beginning to remove the doors and drawer fronts, & another half day at the end for door and drawer re-installation. Total time of 10 working days.
This provided a wonderful change of scenery and a lasting improvement for this kitchen that is surely the easiest way to update your home without a realtor!
Services Used in Project
Photo Gallery
Products Used:
Benjamin Moore Chantilly Lace, OC-65
Client Review:
We had our kitchen cabinets painted by Colour Scheme Professionals. Everyone from Dan & Tricia to the carpenter and painters were very friendly and professional. They arrived on time and completed the job ahead of time. We had a few touch ups to be done, the painters didn't hesitate to come back and do all the work. We were very happy with the way they went out of their way to protect our belongings and left our house tidy everyday. We are extremely happy with the completed job and would not hesitate to recommend Colour Scheme. Thanks to the whole team. 5 stars
- Claudia M.
Recent Projects
Kitchen Cabinet Transformation
So, what if you are happy with your cabinet layout, but would love to add a couple pieces to make it just right? Our clients in west Winnipeg had that scenario. Their kitchen was built in the 80's and had the original oak faced cabinets in […]
The Classic Oak Kitchen - Kitchen Cabinet Spraying
Ron and Donna have a beautiful home which was built approximately 30 years ago. Their kitchen cabinets, solid oak, and grand in the 90's, are not as chic as they once were. This is a very common story. They have a beautiful oak kitchen, custom built by […]
Recent Articles
Your Guide to Interior Painting: Expert Insights from Colour Scheme Professional Painters
Are you considering giving your Winnipeg home a fresh new look with a fresh coat of paint? Interior painting can breathe life into your living space, express your personality, and even add value to your property. Before diving into your interior painting project, it's essential to […]
Elevate Your Home with a Professional Paint Job: A Comprehensive Guide with Video Tutorial
A fresh coat of paint has the incredible power to rejuvenate your living space, making it feel brand new. However, embarking on a successful painting project requires thorough preparation. To start, you must decide on the color and finish you desire. Next, gather the essential equipment, […]