Your Guide to Interior Painting: Expert Insights from Colour Scheme Professional Painters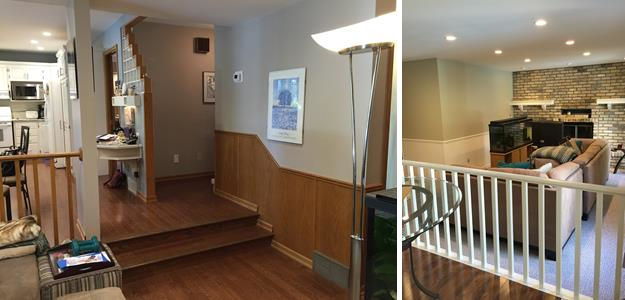 Are you considering giving your Winnipeg home a fresh new look with a fresh coat of paint? Interior painting can breathe life into your living space, express your personality, and even add value to your property. Before diving into your interior painting project, it's essential to understand the different types of paints available and why you should consider the professionals at Colour Scheme Professional Painters for your project. Let's explore the types of interior paint available.
Types of Interior Paint:
There are several types of interior paint to choose from, each with its own set of characteristics. Let's dive into these options:
100% Acrylic Paint
It's a popular choice for interior painting. It's water-based, which makes it easy to clean up and less toxic than oil-based paints. It has a durable finish, quick drying times, and minimal odor. Acrylic paint is known for its durability, fast drying times, and even finish. Acrylics are versatile and suitable for many interior applications.
Oil-Based Paint
Oil-based paints are another option, known for their durability and a smooth, glossy finish. However, they come with longer drying times and stronger odors, which may not be ideal for all interior projects. Due to environmental concerns these products are being phased out.
Now, let's discuss the type of paint that we recommend for your Winnipeg project and why.
The Preferred Paint for Your Winnipeg Project
For your interior painting needs, we recommend the use of 100% Acrylic Paint (water-based). This choice combines the durability of oil-based paint with the ease of use and safety of water-based options. Acrylic latex paint dries quickly, allowing for a more efficient painting process. Its minimal odour ensures a comfortable environment during and after painting.
By opting for Acrylic latex paint, you can expect a beautiful, lasting finish that enhances your living space while prioritizing the well-being of your home and its occupants.
The Benefits of Interior Painting
Now, let's explore the benefits of interior painting. It goes beyond just adding colour to your walls; it can truly transform your living space:
Create Warmth: A fresh coat of paint can make your space feel warmer and more inviting.
Make a Space Feel Inviting: It can breathe new life into your home and create a welcoming atmosphere.
Helps with Personalization: Paint allows you to express your unique personality and style.
Modernizes the Style: Updating the colour can modernize the look of your home.
Increases the Value: An aesthetically pleasing interior can significantly increase the value of your property.
However, it's not just about the paint; it's about the experience you'll have with Colour Scheme Professional Painters.
Why Choose Colour Scheme Professional Painters?
We offer a comprehensive, full-service solution. We take every precaution to protect your belongings, including your flooring, during your interior painting project.
Our professional painting team is bonded, licensed, and insured, with liability insurance and worker's compensation coverage. As a certified Sherwin Williams preferred company, we bring a high level of expertise to every project.
Listen Actively: We don't cut corners; we take the time to listen to your needs and provide excellent long-term value.
Emphasize the Benefits: Our team includes the best painters in Winnipeg, ensuring high-quality work and a thorough explanation of the painting process.
Quality Products: Quality paint products provide lasting value long after we have left your home. We will ask how you use your environment and recommend products best suited to your lifestyle. Professionally applied paint products from reputable companies like Benjamin Moore and Sherwin Williams are what we will often recommend.
Show Appreciation: We appreciate your feedback and will follow up with you after the project to ensure complete satisfaction.
Trust Colour Scheme Professional Painters for your interior painting needs, and you'll experience a seamless process that guarantees a beautiful, lasting finish. Your Winnipeg dream home deserves nothing less. Call us now and schedule the perfect interior painting transformation for your living space.
Recent Projects
Kitchen Cabinet Transformation
So, what if you are happy with your cabinet layout, but would love to add a couple pieces to make it just right? Our clients in west Winnipeg had that scenario. Their kitchen was built in the 80's and had the original oak faced cabinets in […]
The Classic Oak Kitchen - Kitchen Cabinet Spraying
Ron and Donna have a beautiful home which was built approximately 30 years ago. Their kitchen cabinets, solid oak, and grand in the 90's, are not as chic as they once were. This is a very common story. They have a beautiful oak kitchen, custom built by […]
Recent Articles
Your Guide to Interior Painting: Expert Insights from Colour Scheme Professional Painters
Are you considering giving your Winnipeg home a fresh new look with a fresh coat of paint? Interior painting can breathe life into your living space, express your personality, and even add value to your property. Before diving into your interior painting project, it's essential to […]
Elevate Your Home with a Professional Paint Job: A Comprehensive Guide with Video Tutorial
A fresh coat of paint has the incredible power to rejuvenate your living space, making it feel brand new. However, embarking on a successful painting project requires thorough preparation. To start, you must decide on the color and finish you desire. Next, gather the essential equipment, […]